Garage Organisation: A Place For Everything & Everything In Its Place
When it comes to your garage, it's usually a place to store all your clutter. Whether it be tools, Christmas decorations, out of season toys or sports equipment. We're all guilty of dumping items in the garage when there's no space in the house, they're a bit messy or we don't really need them. And at some point, the garage becomes so disorganised and full that you HAVE to do something about it.
The solution is clear. Declutter and organise your garage space.
Benefits of an Organised Garage
Together with our friends at Garageflex, we've compiled some helpful tips on how and why you should tackle this task, it may not be a glamorous task but the end result is certainly worth it.
Organise Your Garage: An ordered space
Once you have everything organised find a place for it. Think different zones for tools, sports etc., leaving it easy to find what you need when you want it. No more rifling through boxes or piles to find your golf shoes.
There's a lot to be said for "A place for everything and everything in its place"
Organise Your Garage: More space
The cleverer you are with your storage solutions in the garage, the more you'll actually be able to fit in. So you might even be able to free up some cupboards in the house if you invest in the right options.
Tidying and filing things away will also reduce the visible clutter in the garage, leaving it a more relaxing space.
Organise Your Garage: A bug-free space
Getting rid of the exposed brick or breeze block walls means you eliminate all the nooks and crannies that spiders and creepy crawlies like to hide in. Adding something like white wall panelling keeps things sealed up and clean.
Plus, if you ever do have an invasion down the line it is easier to spot and resolve before things become more serious.
Organise Your Garage: A clean place
If you can store things on your garage wall and ceiling, you'll have a nice clear garage floor which is easy to clean.
You'll be able to mop around in a jiffy, and any spills or muddy boot prints are simple to spot and tidy up.
Organise Your Garage: An appealing space
If you're going the whole hog, upgrading your garage door will give an instant shot of kerb appeal to your home.
Perfect if you're thinking of selling at some point, and new doors offer insulatation making the garage a warmer, more inviting place.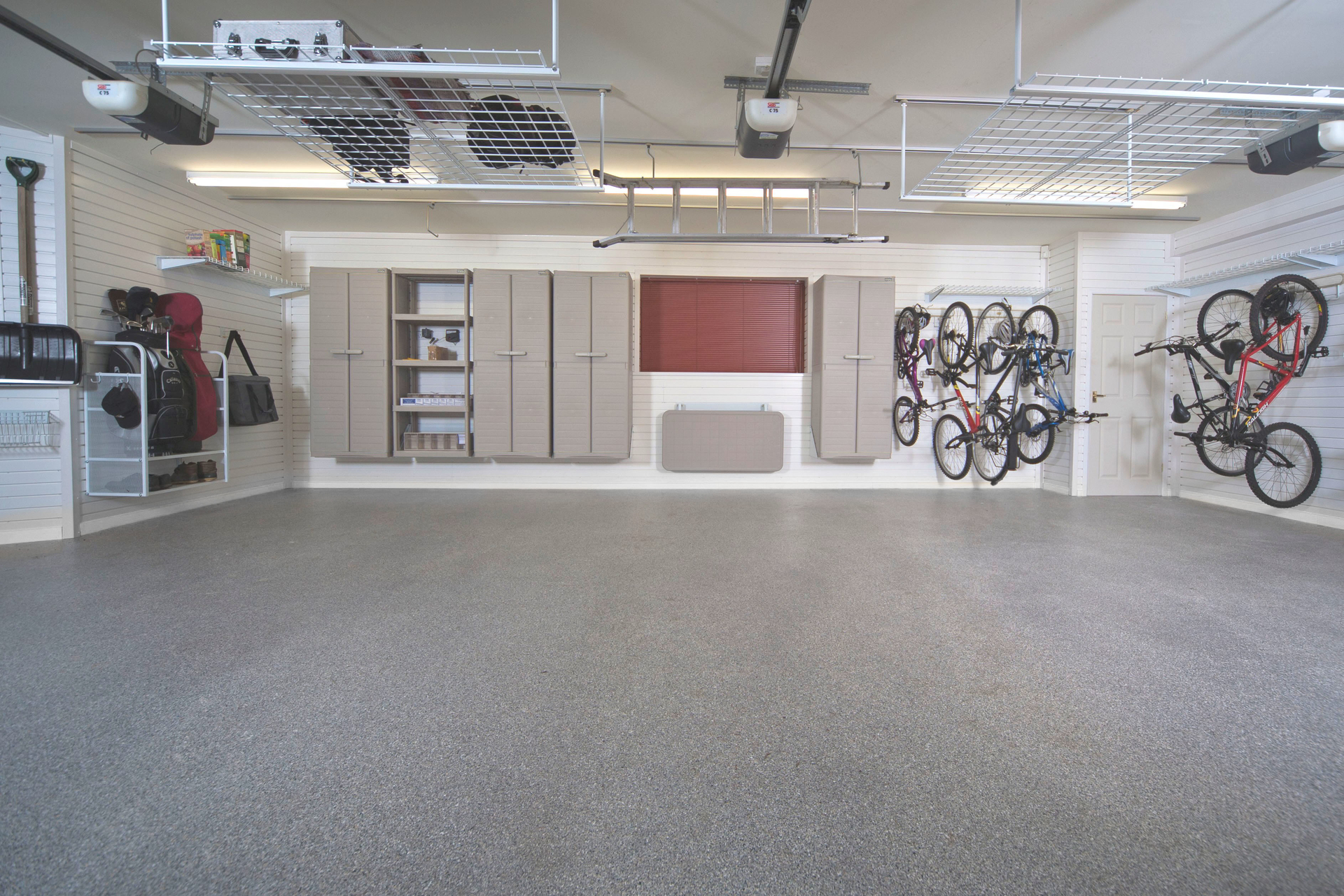 Organise Your Garage: A valuable space
In this day and age, lots of newer properties lack storage space. By investing in clever storage options, you'll add value to your home.
A tidy space also looks a lot bigger, and it'll make a great first impression on viewers.
Organise Your Garage: A car storage space
If your car is your pride and joy, who wants to leave it on the driveway overnight. Keep it safe and out of the rain and snow by storing it in your garage. Keeping everything organised in your garage gives you the space to store your car.
A clean, tidy garage floor will also make spotting oil leaks or drips from the car easier to spot.
Organise Your Garage: A safer space
When a garage is cluttered there are so many hazards around. Little children can easily hurt themselves by pulling items down on top of them or the elderly might trip over trailing items.
Storing items away from walkways - against walls or ceilings - gets rid of this problem and allows you to provide a safe environment for all the family.
Organise Your Garage: A brighter space
Installing wall panelling in your garage brightens up the space and allows light to bounce around the room. Of course you'll still need lights in there for dark days but it's incredible how much light brighter walls can bring to a garage space.
Upgrading to energy efficient LED lights will also provide better visibility while saving money on energy bills - plus they'll last longer.
View all articles